Preparing for Your Skydive
Get Ready for Your Jump!
What You Need to Know
Thank you for making a reservation with Skydive Newport!
Brace yourself for a truly unforgettable experience that's bound to be nothing less than epic. We can't contain our excitement about sharing this adventure with you! Renowned as New England's paramount skydiving hub, safety and efficiency are our hallmarks. But, we're a team, and to keep soaring, we need your assistance in ensuring certain policies are maintained. If you are jumping with a group, the person making the reservation is responsible for making sure everyone in the group understands everything on this page.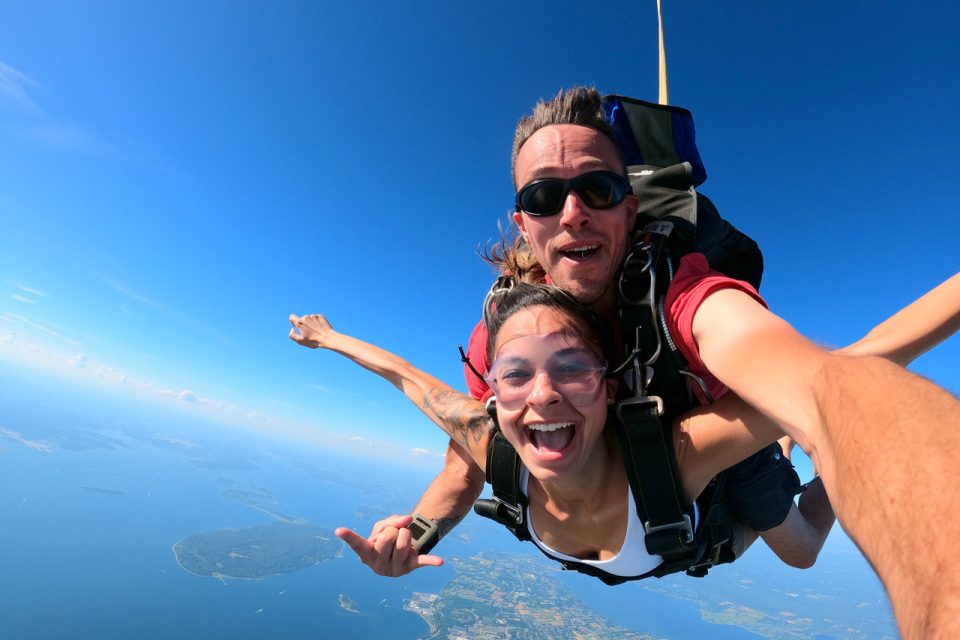 When should I arrive?
Skydive Newport requires that you and everyone in your group show up at least ONE HOUR prior to your scheduled time for processing (i.e. 12:00 reservation to show up no later than 11:00). Your reservation time is the time your group should start jumping. There are waivers that need to be completed and training that you need prior to your jump. Also, the larger your group is, the more time it generally takes for processing. We welcome you to show up a little early if you like. It can give you a chance to get settled prior to your jump and see the operation in action.
Please plan accordingly. Newport, RI is a tourist destination, and many times you may encounter beach traffic or just general congestion traffic (especially during summer months). If you or your group is late it is very possible that you will lose your reserved time slot and be charged the FULL AMOUNT as a late cancellation /no-show fee. We cannot delay other reservations if you or your group are late, so it is imperative that this policy is followed. This also applies to spectators. We cannot delay your jump if your family/spectators are late, so please ensure they understand the arrival time as well.
*This policy has absolutely no exceptions!
Does Skydive Newport take deposits?
When you made your reservation, we needed a valid credit card to hold the slot for you, however, we DO NOT charge anything at this point. This is a bit different from what many other skydiving places do (they often charge $50-$100 per person at the time you make your reservation).
We also don't ask for the whole payment upfront and have an all sales final/no refunds policy. Nor do we impose charges for individuals weighing between 200 pounds and up to the maximum limit of 225 pounds. We don't operate this way. We believe in treating our customers the way we'd want to be treated. So, you pay in full on the day of your jump.
What forms of payment are accepted?
We accept MasterCard, Visa, Discover, or cash
We do not accept checks or American Express
What is the cancellation policy?
We require at least a 48-hour notice to cancel a reservation or to remove someone from your group. For groups of 8 or more, we require at least one week's notice.
If you cancel the reservation or remove anyone after 48 hours prior to your reservation, there will be a charge of $100.00 per person for a late cancellation fee. If you cancel the reservation or remove anyone after 24 hours prior to your reservation, or don't show up for your reservation, you will be charged the FULL AMOUNT of the tandem jump for the number of people affected that either canceled or don't show up. Additionally, if anyone shows up outside of our weight limit chart (see weight limit FAQ below) or outside of our minimum or maximum age limits (see age limit FAQ below) you will be charged the FULL AMOUNT of a tandem jump for the number of people affected.
What if there is inclement weather?
Skydiving is an extremely weather-dependent sport, and safety is our highest priority (along with a positive experience for our customers). We require relatively clear skies, light-to-moderate winds, and no precipitation. Skydive Newport will determine if there are any weather constraints on the day of your jump. We generally do not cancel reservations before the day of your jump unless it is clear that it won't happen (i.e. an impending hurricane) since, in our experience, the weather forecasts are inaccurate much of the time.
If we know that the weather is not conducive to jumping on the day you are scheduled then we will use the phone number given during the reservations process to let you and your group know. There is no cancellation fee for weather issues and we do not keep your money in that event. If the weather is in question, it is usually a good idea to call us before you leave your house to check. Being that we are located on an island, the weather here is often different than it may be at your home. If the weather is good at your scheduled time and you or your group is a no-show (without communicating with us prior), you will be charged the FULL AMOUNT of a tandem jump for the number of people affected.
Also, as mentioned above, your reservation is for a specific time slot. If the weather is bad at that time, then you will have to reschedule your jump. Skydive Newport has to follow all federal regulations FAR part 105. Often we are booked all day long, and we cannot infringe on later reservations that day if the weather clears. It wouldn't be fair to them (or to you if you were scheduled for that later time slot).
Are there seasonal weather issues?
Especially during the Spring and early Summer months, there is a tendency for low-level fog to form early in the morning and later in the afternoon. Such conditions may hinder our ability to jump and often are unforeseen conditions that weren't forecasted. As mentioned, we are a reservation-based business and your ability to jump on your scheduled time will be based on the weather at that time. Please keep this in mind when making your reservation.
How long should I expect to be at Skydive Newport?
We take pride in being an exceptionally efficient skydiving center, setting a high standard that sets us miles ahead of the rest. We know your time is valuable, and you may have other activities planned here in Newport, RI on that day. In most cases, two people will be here for 1-1.5 hours from your scheduled time (usually less than that). A group of ten people are generally here for about 3.5 hours from their scheduled time. Due to the nature of aviation (and all the moving parts therein), these times can vary. Please allow enough time between your jump and any other scheduled activities in case of a rare unexpected delay.
Is there a weight limit?
Skydiving is not for everyone, and a certain level of participation is required in order to partake in a tandem skydive. We have weight limits that apply (fully clothed, shoes on). We will weigh you. That is our absolute maximum limit and we do weigh our students prior to gearing them up. If a student has an excessive height-to-weight ratio, we also reserve the right to refuse services based on that factor. The height/weight chart is visible below. Please also understand that if you or a member of your group were to show up over these limits, you (and or they) will be refused service and be charged the FULL AMOUNT OF THE TANDEM JUMP for a late cancellation. This weight limit policy is set in stone and is non-negotiable. It is purely a safety issue and we refuse to sacrifice the student's safety or the instructor's safety under any circumstances. If we're in question we will weigh you!
| | |
| --- | --- |
| Height | Max. Weight |
| 4'10" and under | 130 lbs |
| 4'11" | 140 lbs |
| 5'0″ | 150 lbs |
| 5'1″ | 160 lbs |
| 5'2″ | 165 lbs |
| 5'3″ | 170 lbs |
| 5'4″ | 175 lbs |
| 5'5″ | 190 lbs |
| 5'6″ | 210 lbs |
| 5'7″ | 225 lbs |
| 5'8″ | 225 lbs |
| 5'9″ and above | 225 lbs |
Is there an age limit?
Skydive Newport has a minimum age of 18 (no exceptions to this policy, even with parental consent). You will need to show a valid, government-issued ID when you arrive to jump.
We have also set a policy that we will no longer take anyone on a skydive over the age of 75. We do realize that there are many people over the age of 75 who are in great shape and would have no problem engaging in tandem skydiving activities. We also realize there are just as many people over the age of 75 that would not fit our basic standard allowing us to give proper training partly due to physical limitations.
We also reserve the right to refuse service to anyone, any age, at any time for any reason we see fit. We apologize if this is an inconvenience. We will be happy to give you a list of other skydiving centers that may accommodate you. Please call for more details.
What is the alcohol/drug policy?
Newport State Airport is a State Airport, and no alcoholic beverages are allowed on the premises. Since you are required to participate to a certain degree in the skydive (as well as follow the instructions of your instructor), you must not be under the influence of alcohol and/or drugs when you arrive. This is a safety issue, and we reserve the right to refuse service if we believe that you are impaired. Also, we advise against drinking heavily the night before making your jump. Being hungover will ruin your experience and could even make you sick.
What should I wear?
Dress comfortably for a typical outdoor activity (taking into account the weather). During the Summer months (July-Sept), a good choice would be shorts, yoga pants, t-shirts, tank tops, capris, etc are suitable. For shoes, comfortable sneakers are the ideal choice (no flip-flops, open-toed shoes, or boots with hooks). During the Spring and Fall months, you may want to opt for jeans or long pants, long-sleeved shirts, sweatshirts, or fleeces (again, no boots with hooks). The temperature at altitude is generally a lot cooler than the outside air, and we will provide you with gloves should they be necessary. We no longer offer jumpsuits due to an abundance of caution with respect to sanitary issues. Do understand grass stains may occur on your clothing.
How should I wear my hair?
Please be advised that long hair, dreadlocks, weave, hair extensions do play a role in the safety of a tandem skydive. Please be prepared and equipped to contain your hair (hair ties etc.) If we feel that anyone's hair is uncontainable, we will refuse service and charge the full amount for a late cancelation.
Can I jump with my GoPro?
Skydive Newport does not allow you to take your own camera on a skydive for a variety of reasons, the first of which is safety. You or your instructor may be hit with a camera carried in freefall, causing possible injury. Because we are falling at speeds of 120 mph, any projectile that could dislodge from a mount at that speed is very dangerous. Our camera equipment has been specially designed and modified to be skydiving-friendly, and the instructor has extensive experience in safely operating that equipment. The second reason is one of liability. Should the camera be dropped, bumped, or fall away for any reason, everyone below is at risk. Anything dropped from that altitude (even the lightest of equipment) is extremely hazardous. We regularly jump over highly populated areas, and we are not willing to put those below at risk, nor have to answer to the FAA as to why a camera went through someone's windshield. The third reason lies in the fact that our instructors have been highly trained in how to film in freefall and during the canopy ride, and are much more likely to produce a product that accurately reflects your jump. The sensory overload on one's first jump can be a bit overwhelming, and being able to catch the angles and lighting takes great practice and skill. Our instructors are as much photographers as they are instructors!
You and your family/friends are more than welcome to bring your own cameras for on-the-ground filming/photography before and after the jump, but please do not attempt to bring one onto our aircraft. You will not be allowed to jump with it.
Are spectators allowed?
Yes! We have a comfortable spectator area at the edge of the landing area, complete with picnic tables and sun umbrellas. Bring as many people as you like. If you are scheduled on a weekend day, we ask that you please have all your non-jumping spectators go straight to the spectator area behind the lobby where you check-in. Weekends are the busiest/highest volume days, and we have limited space in our lobby, so we need to dedicate that space for training.
Is there a child policy?
It goes without saying that an airport can be an extremely hazardous environment for unattended children. There are active taxiways with moving aircraft, deadly spinning propellers, open containers of volatile chemicals and fuels, sensitive lifesaving equipment, and parachutes landing at a formidable speed. In addition, there are many other aeronautical activities which take place on and off the field (including frequent military training exercises) which can all be affected by an unattended child running out on the taxiway or into the field. This is an environment for adults, but we also understand how important it is for many to share experiences like this with their children, or those in their families. So, in order to keep them safe and allow all activities on the airport to safely continue, all children under the age of 8 must be under the direct supervision of an adult at all times. We define direct supervision by holding their hand 100% of the time while on airport property. This may be an inconvenience, but safety is the number one priority for everyone at our facility. If this policy is not followed, you will be asked to leave the property (and any and all fees will be forfeited)
Should I tip my instructor?
Tipping policies vary widely across the industry, but there is no set rule. Here at Skydive Newport, our staff is paid well for the job they do. However, if you had an excellent time and feel that your instructor went over and above to give you a great experience, gratuities are accepted and greatly appreciated.
Thank you for taking the time to read these important points and passing them on to your friends. We look forward to jumping with you and your fellow jumpers!