New England's Most Beautiful Skydive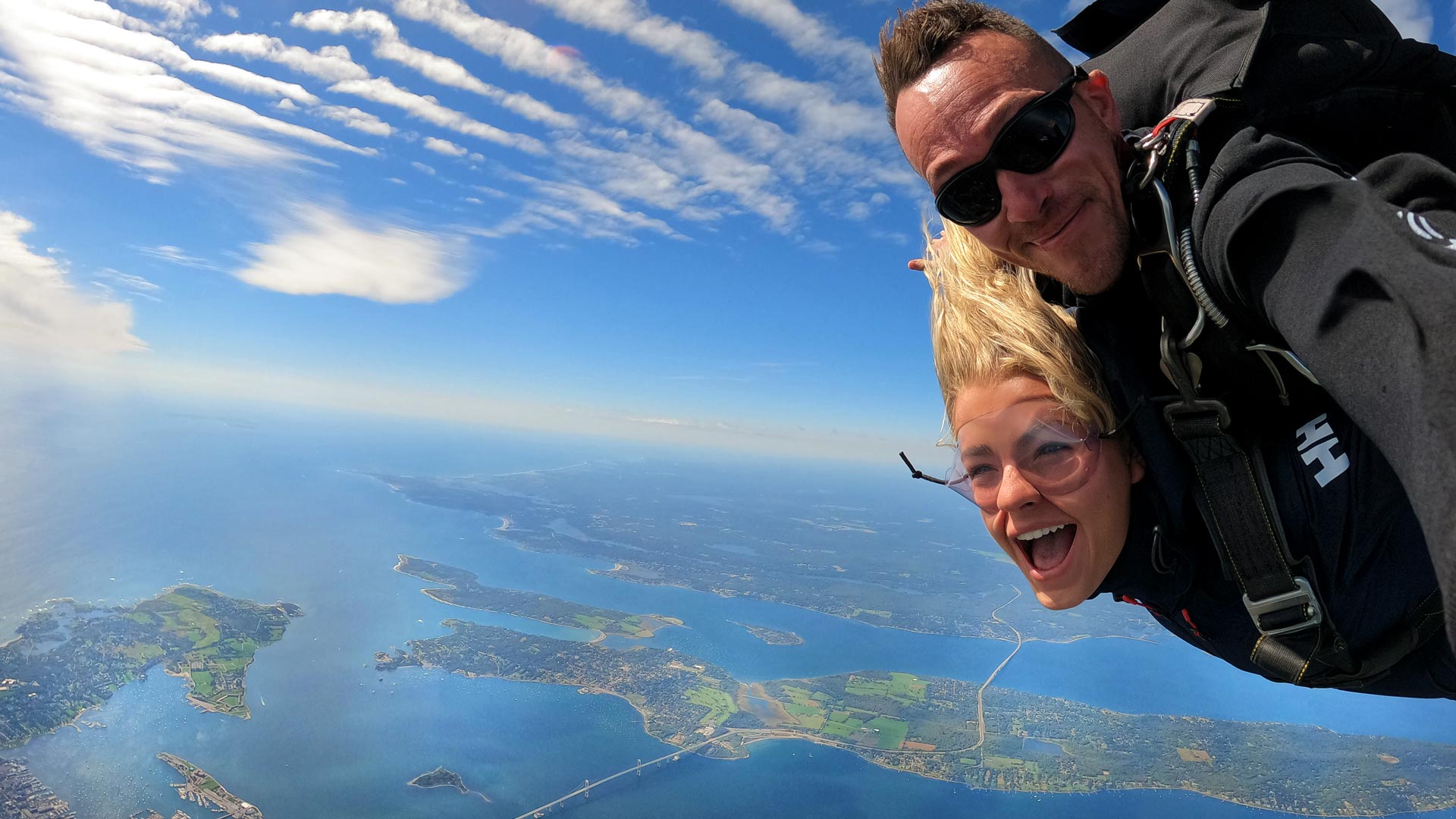 Our 2023 Skydiving season has come to a end. Thank you to all our customers that jumped with us this season. We will reopen in April of 2024. As a reminder, gift certificates are available all year long by clicking the "Gifts" tab on the top of our home page. We look forward to jumping with you in 2024! Have a great winter!
Choose Your Adventure
Skydiving Rates

Welcome to Skydive Newport
Celebrating 25 Years of Skydiving
Skydive Newport in Middletown, RI, provides a world-class tandem skydiving experience. Since opening our doors in 1999, we've safely conducted over 70,000 tandem skydives! With world-class views, an impeccable safety record, well-maintained aircraft, and beautiful facilities, our family-owned dropzone is the top choice for skydiving in New England.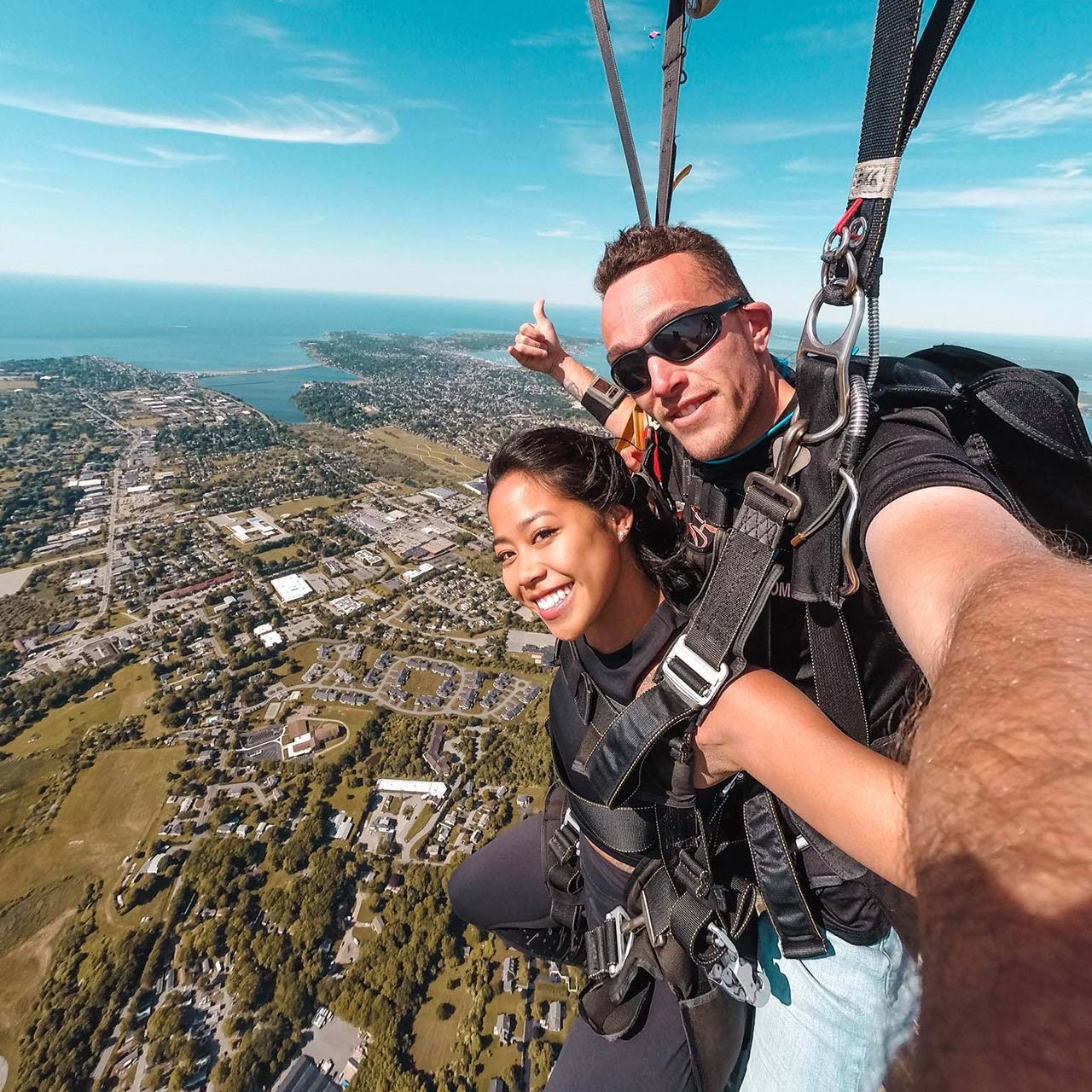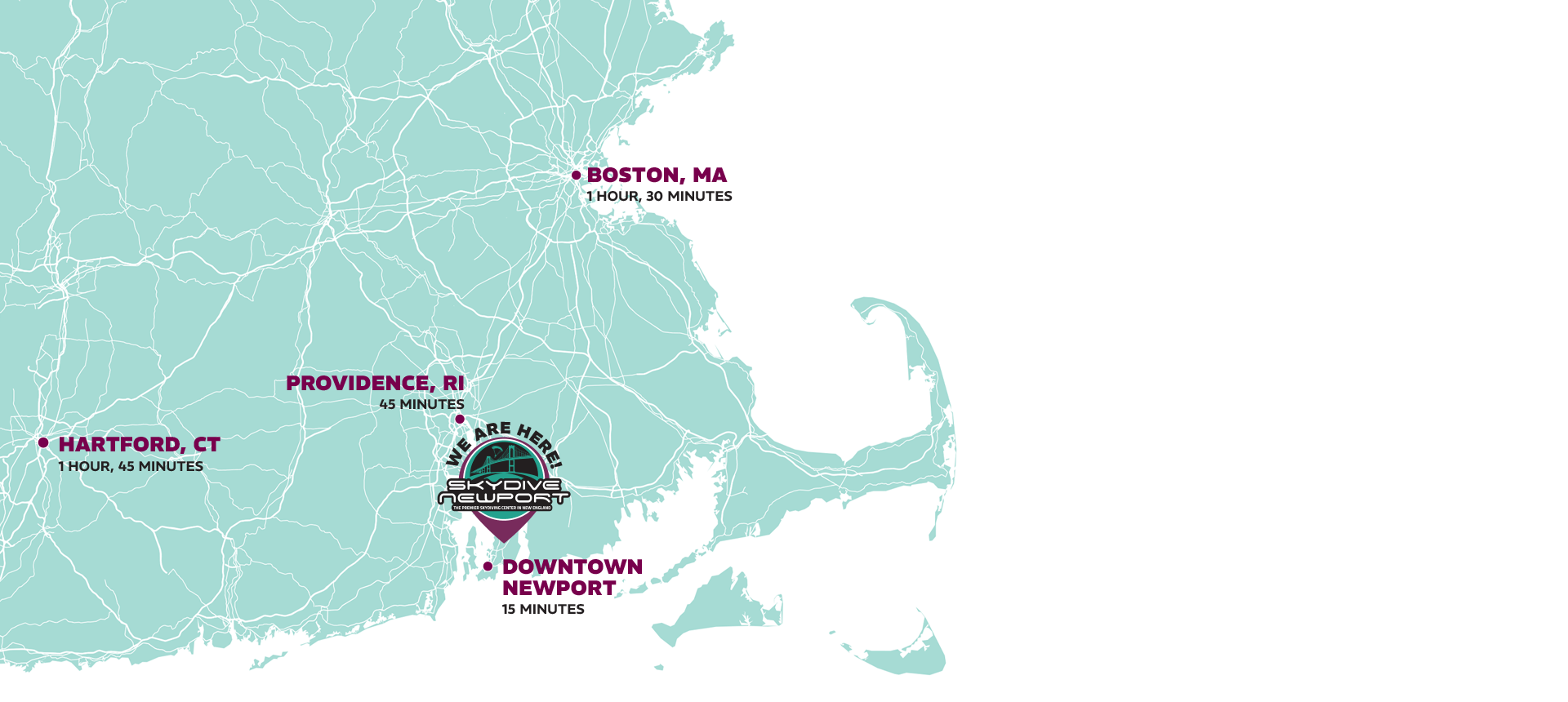 A Short Drive Away
Our DZ Location
Skydive Newport has one location, but we serve an entire region of adventure enthusiasts. Routinely, our guests visit us from throughout New England, including Boston, Rhode Island, Connecticut, New Hampshire, and Maine.
Why Choose Skydive Newport
What Makes Us Different
---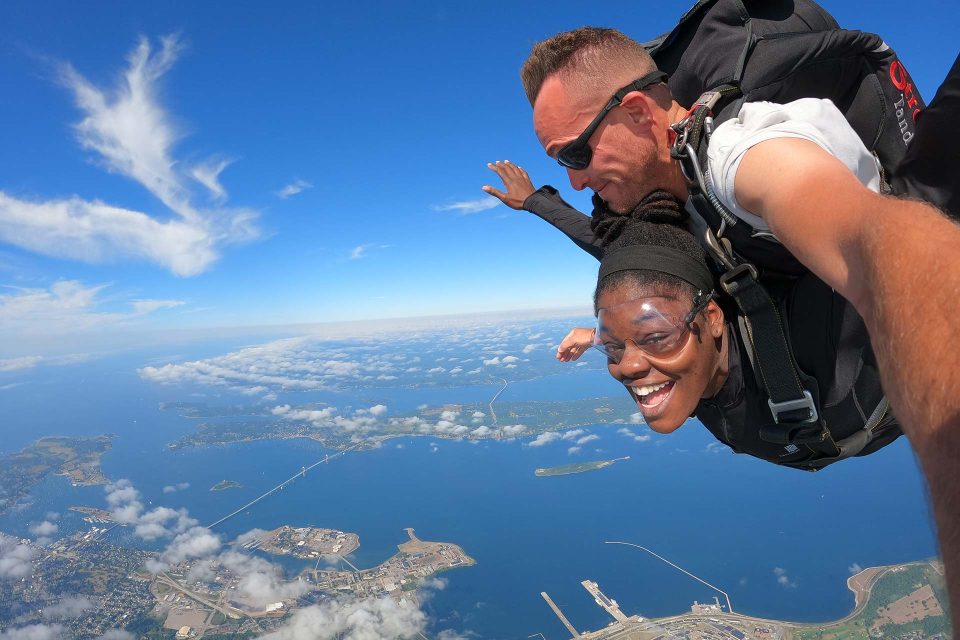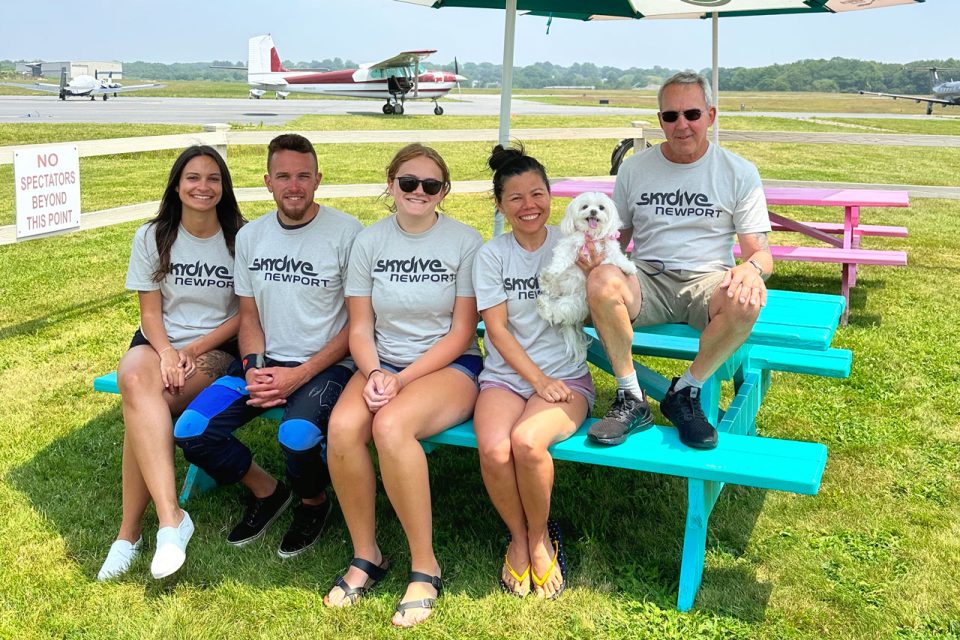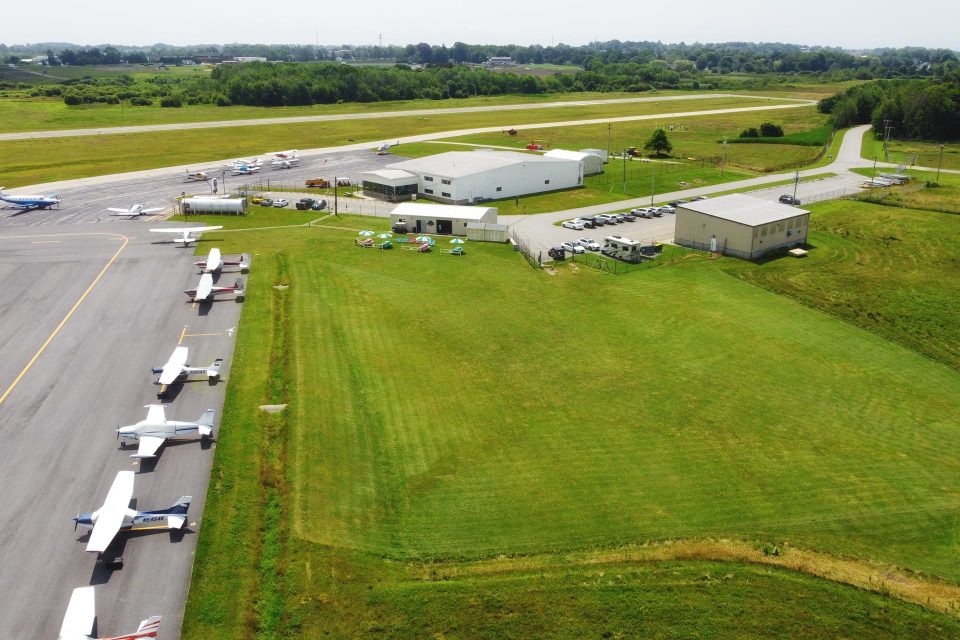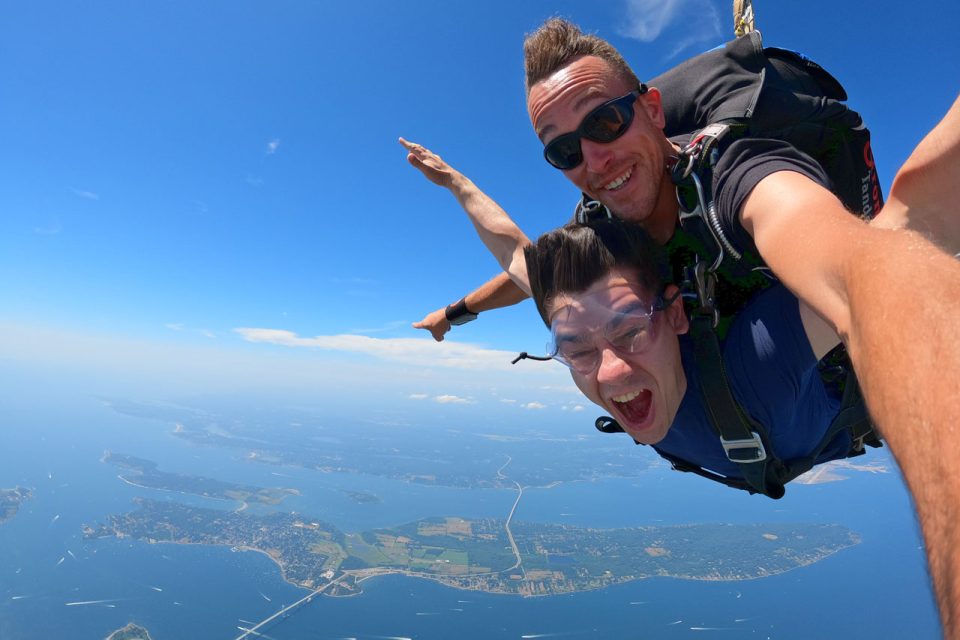 Spectacular Views
Skydive Newport offers an unparalleled tandem skydiving experience, featuring awe-inspiring views that are unrivaled in the region. As you soar over the Newport coastline, the breathtaking panoramas will captivate your senses, turning your skydiving adventure into an extraordinary visual feast. It's more than a jump; it's a mesmerizing spectacle.
Family Owned
At Skydive Newport, family isn't just a word; it's our ethos. Marc's 40 years of skydiving, Cherri's dedicated rigging, and Chris's 1,000 annual tandem jumps reflect a united family passion for safety and excellence. As a family-operated dropzone, we jump alongside our customers, creating an unparalleled and trustworthy skydiving experience.
Attention To Detail
Skydive Newport epitomizes excellence, thanks to owner Marc's meticulous attention to detail. Every element, from a pristine landing area to top-tier equipment and an impeccably clean environment, is fine-tuned. Our customer service is unparalleled, promising a skydiving experience that's as unique and extraordinary as our unwavering commitment to quality.
No Fine Print
At Skydive Newport, transparency is our promise. Our operation is solely customer-focused, ensuring no hidden costs or fine print. What you see is what you get, with no weight surcharges or booking deposits. We never upsell or surprise you with extra fees. Your skydiving experience is delivered with integrity and absolute clarity.
---
What To Know Before You Go
Frequently Asked Questions
Is there a weight limit to jump?
Weight limits apply. Anybody over their height to weight limit will be refused. More information is available on our Preparing For Your Skydive page.
Is there an age limit?
Skydive Newport has a minimum age of 18 (no exceptions to this policy, even with parental consent). You will need to show a valid, government-issued ID when you arrive to jump.
We have also set a policy that we will no longer take anyone on a skydive over the age of 75. We will be happy to give you a list of other skydiving centers that may accommodate you. Please call for more details.
What is needed to make a reservation?
To secure a reservation: we require a valid credit card number during the reservation process. We do not charge your credit card at this point. You can pay in full the day of your jump.
We accept cash, MasterCard, Visa or Discover, but NOT American Express. No personal checks are accepted.
What is your weather policy?
We here at Skydive Newport are the only qualified people to determine if you can't jump due to inclement weather (wind, rain, etc.) If you are uncertain about the weather on your reservation date, you must call and we will keep you informed. If the weather isn't jumpable during your scheduled time, you will be asked to reschedule (instead of waiting around all day). Also, in the event that your jump is canceled due to inclement weather, there would be no charge or deposit fee. Any monies would be returned in full and you will have the option to reserve a different day.
What is your cancelation policy?
We require a 48-hour notice of cancellation or rescheduling at no charge. There are no exceptions since we regularly turn away others for spots that have been reserved. For groups of 8 and larger, we require 1 (one) week notice of cancelation or rescheduling at no charge. No exceptions. Call (401) 845-0393 for more information.
Meet the Team
Cherri Tripari
Word of Encouragement for First-Time Jumpers:
It's a must do. You will love it.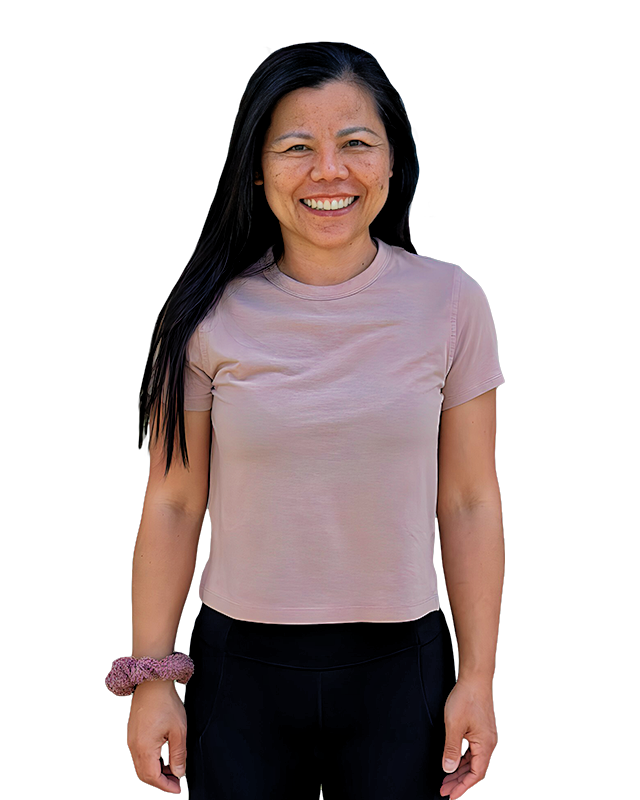 Photo Gallery
View Photos from Our Dropzone