First Time?
Tandem Skydiving
Are You Ready for the Adventure of a Lifetime?
Embark on an adrenaline-fueled adventure with the utmost confidence, all thanks to our cutting-edge passenger/pilot tandem skydiving system. Tandem skydiving is the ideal way to experience your first jump because it requires minimal training while providing maximum excitement.
We'll team you up with a seasoned instructor who's been there, done that, and is ready to guide you through every heart-pounding moment. So lean into the exhilaration, leave your worries behind, and let the skydive of a lifetime unfold before your eyes!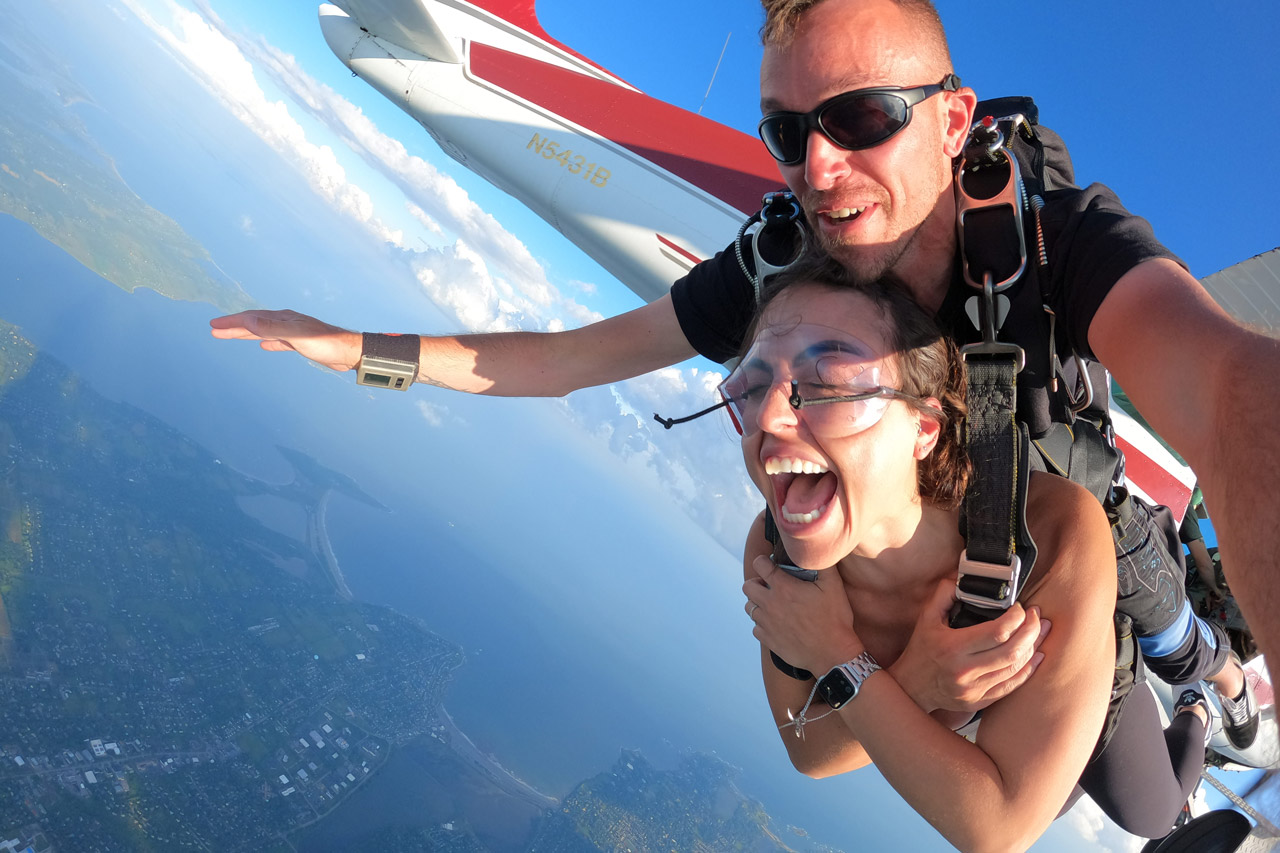 How Does It Work?
Using a parachute specifically built for two, a USPA certified tandem skydiving instructor from Skydive Newport will guide you safely through the entire skydiving experience.
With thousands of jumps under their belt, your instructor will lead you through training and your jump, ensuring your safety and enjoyment throughout. Plus, the best part about participating in a tandem skydive at Skydive Newport? Your training is a breeze, just 5 minutes! The jump itself happens around 20-30 minutes after boarding the aircraft. As a first-time jumper, brace yourself for an adrenaline-pumping 40-second freefall at 120 mph. At 5,000 feet, you'll assist in deploying the parachute for a gentle descent of 5 to 10 minutes.
Ready to make the leap? Don't wait a moment longer! Secure your spot to skydive New England with Skydive Newport and let the extraordinary become your reality!
Tandem Skydiving Boston and New England Since 1999!
Please note that in order to join us at Skydive Newport for a tandem skydive you must be at least 18 years old and weight limits apply. No exceptions. For more information regarding height and weight restrictions, please visit our physical requirements page. For information concerning age restrictions, cancellations, refunds, reservations, and inclement weather please visit our FAQ page.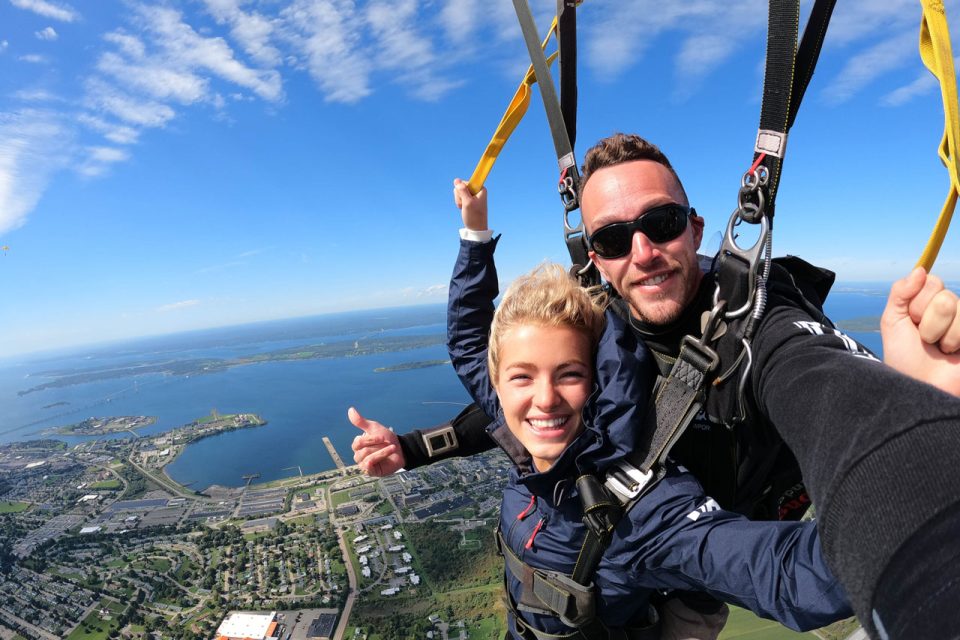 Tandem Pricing
Due to the frequently increasing cost of aviation fuel and operating expenses, prices are subject to change without notice. The cash rate for a skydive is only available and payable the day of your jump.
Type of Jump
Cash
Credit
Tandem Skydive
$260
$270
Tandem Skydive Discount Rate


We are happy to offer a discount for members of the Military and Students. We do require those requesting discounts to please show relevant ID.

$250
Cash only
Group Pricing
Option
Cash
Group Rate - 6 or more people -

Cash only

$250/person
Tandem Gift Certificates
Gift certificates are non-refundable. Gift certificates are not redeemable for cash. Age and weight limits apply. Be sure to read about jumper physical requirements before purchasing. Gift certificate sales are only available by credit card. Cash sales for gift certificates are not available.
Photography Services
Take advantage of our awesome photography services and capture every moment of your skydive from takeoff to landing!
Option
Cash or Credit
Freefall Still Photo Package


High resolution still photos of your climb to altitude, skydive, and parachute ride, delivered to your email via our cloud service shortly after landing.

$100 per person
Freefall Video and Stills Package


High definition video professionally edited with music, and high resolution stills delivered to you via our digital cloud service!

$130 per person
Discounted rates are based on cash sales only. Due to the frequently increasing costs of aviation fuel and operating expenses, prices are subject to change without notice.