Why Choose Us
About Skydive Newport
A Family Owned Business
Focused On Customer Service
Skydive Newport has provided safe and professional tandem skydiving in Rhode Island since the summer of 1999. We are a family-owned business and are proud to say we have three generations of ownership and operations. All of us are on location every day to make sure you have a second-to-none experience. We offer the best instruction and media packages in the area combined with the most stunning views of the Newport Coastline. We pride ourselves on being unparalleled in safety and providing our customers with an exceptional experience from start to finish. Skydive Newport is very discerning as to who we hire for instructors. Only 10% of the instructors in this country would be considered a candidate to jump at this location. Our aim is to treat each individual as a valued guest, and the owners are permanently on-site to oversee each stage of your skydiving experience.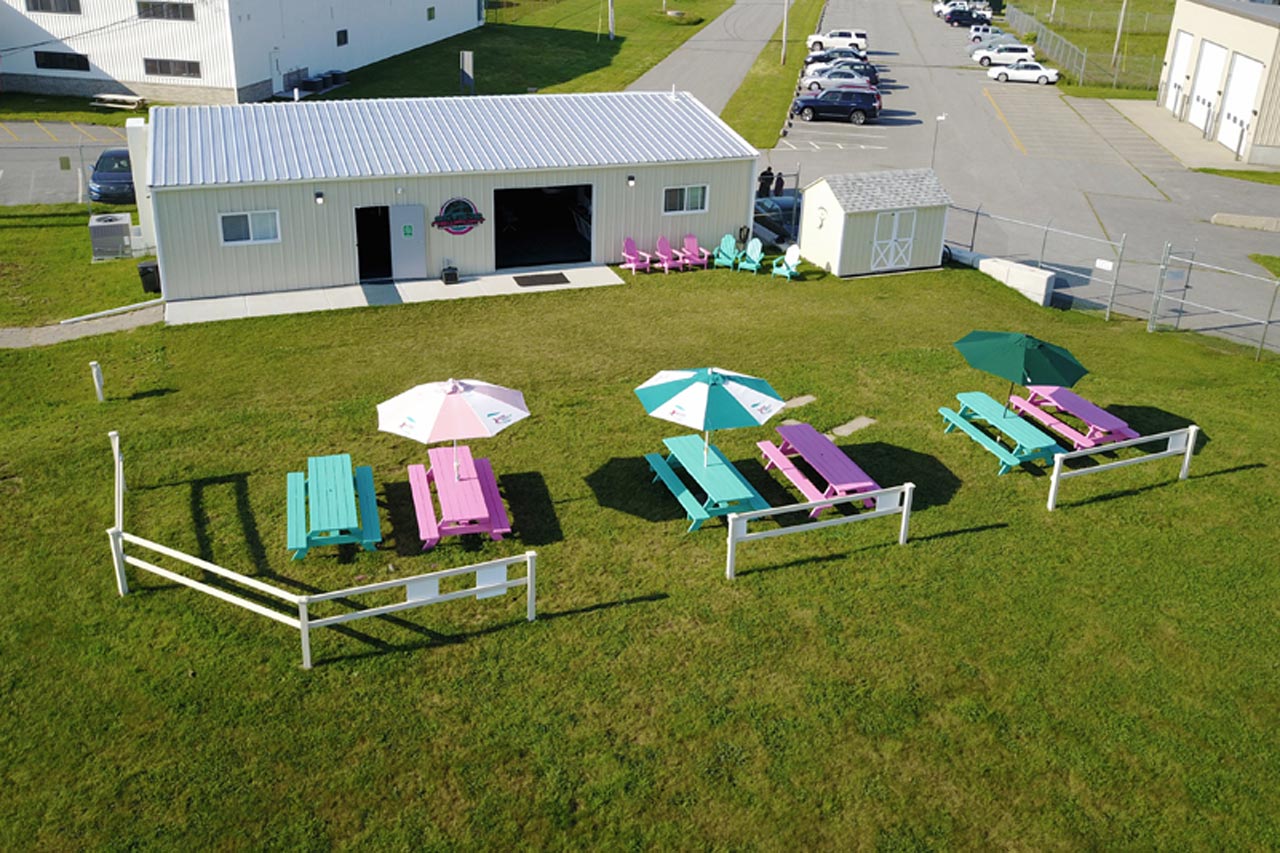 Prime Location
We operate out of a specialized building on a very customer-friendly airport. Vending machines and clean bathrooms (with fully functioning/flushing toilets) are on site (a rarity amongst most skydiving locations throughout New England!). Bring your friends and family along for the day, as all spectators are welcome to use our picnic area on the edge of the landing area to relax while they watch your jump. They will be able to see you boarding the aircraft, taking off, and landing, all in front of them! Cameras are welcome for on-the-ground photography. Outside food is welcomed as well.
Premium Views
Located by the coast, Skydive Newport offers gorgeous views that easily rival most parachute centers in the United States. Serving Boston, MA, New Hampshire, Connecticut, and the rest of New England, your jump with Skydive Newport will take you on a journey from two miles above the pristine coastline of Newport, over Narragansett Bay and the Newport mansions. On a clear day, you can see the outlines of Cape Cod, Martha's Vineyard, Block Island, and Long Island, sometimes even all the way to Boston! Skydiving Boston and New England has never been easier or more enjoyable than with Skydive Newport.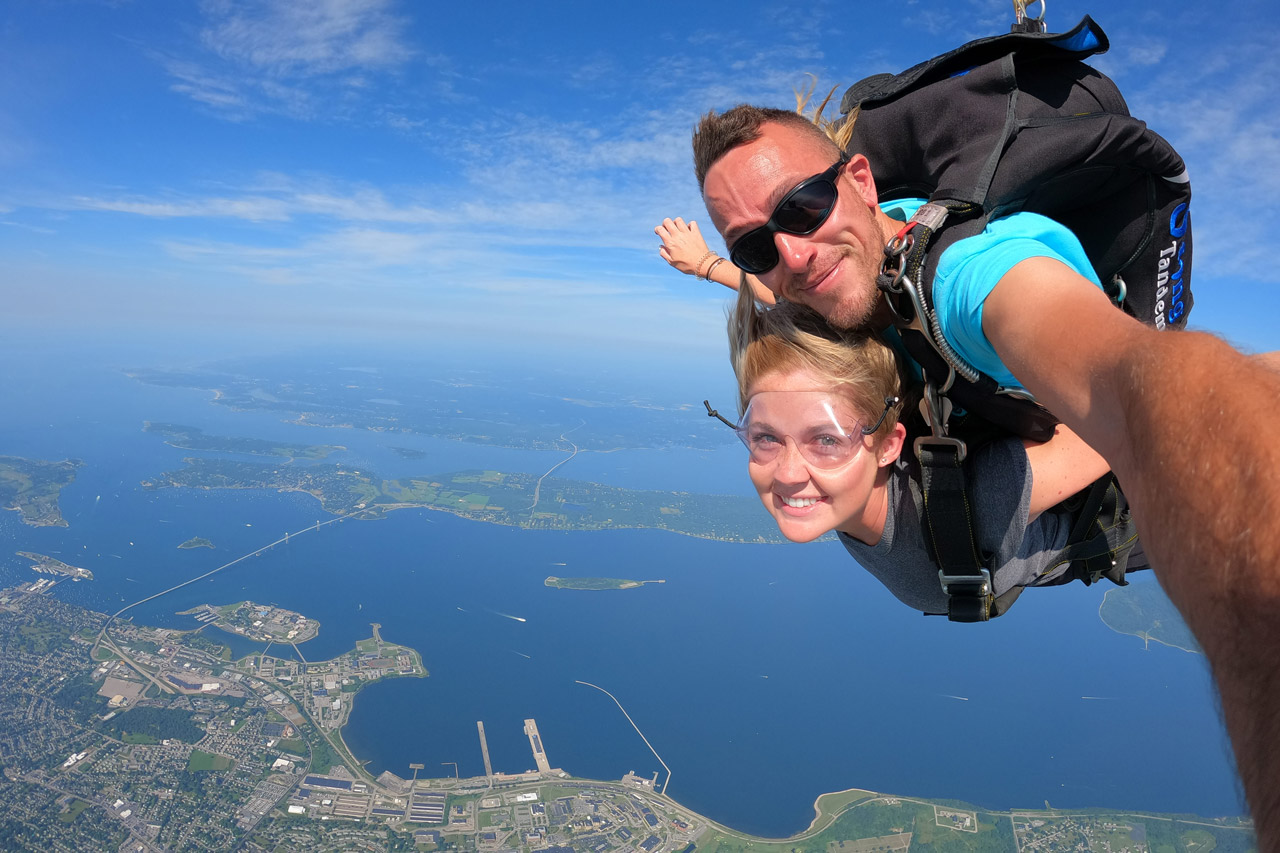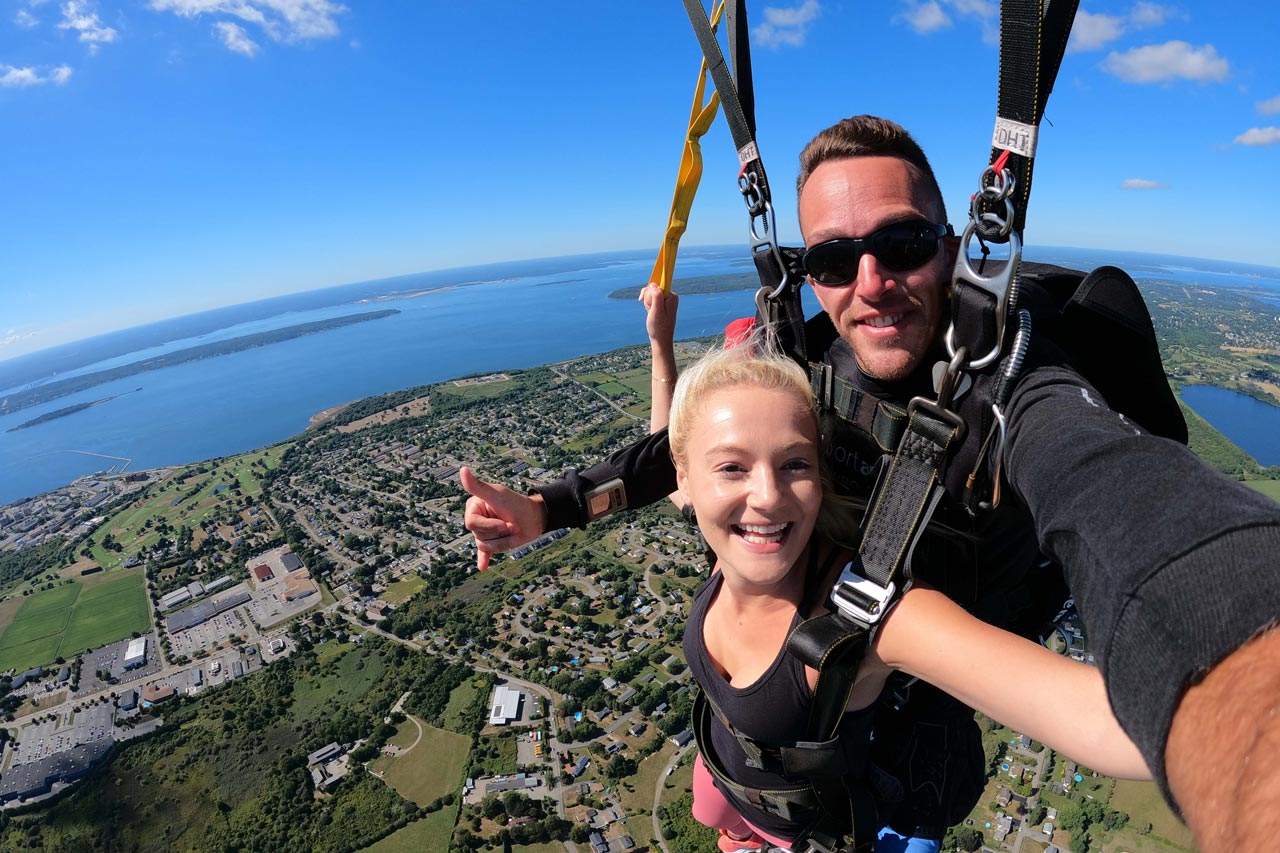 Vacation Destination
You can find us at the Newport State Airport, just two miles away from the beach and four miles from downtown Newport. As the number one tourist destination in New England, Newport offers numerous nearby restaurants and shopping centers guaranteed to add to your perfect skydiving getaway. With a very extensive nightlife including a large number of pubs and live music venues, Newport, RI has something for everyone. For those wishing to extend their visit, there are many hotels very close to the airport so that you can enjoy everything that Newport and the surrounding area has to offer.
Client Focused
At Skydive Newport, we offer very accommodating reservation policies to our clients. We will not charge your credit card during the booking process, and your money will be returned if you are unable to jump due to weather conditions. We completely understand that as our clients, you have a lot of different adventures that you want to complete during your stay in New England, and we would never want to stop you from participating in anything on the chance that your skydive attempt is cancelled due to unfortunate weather. We complete all of our reservations over the phone in order to provide a personal experience to each individual guest as well as to be able to answer any questions that you may have regarding your jump.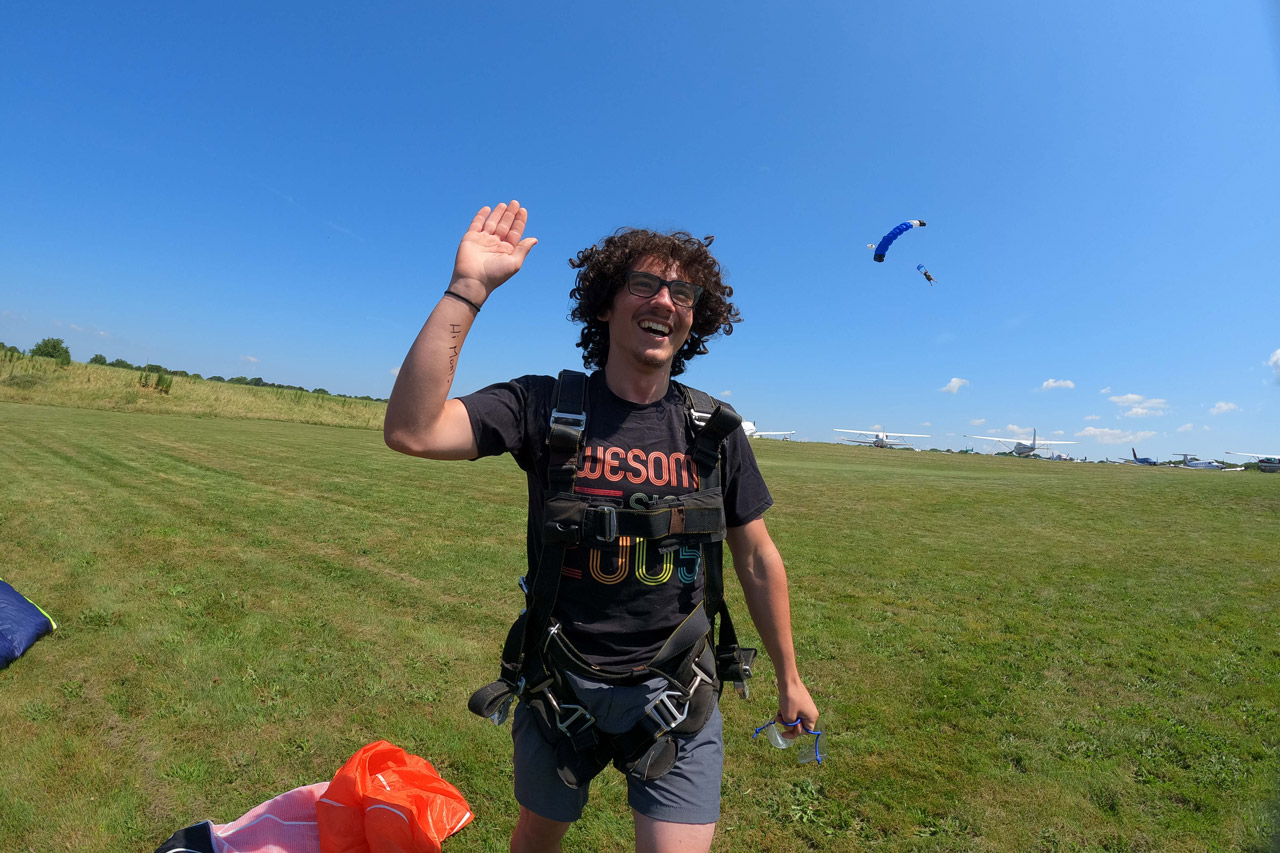 Our primary aim at Skydive Newport is to offer the public a perfect location for their tandem skydive and a customer service experience to rival anything they have ever experienced. Our safety records and testimonials speak for themselves – we are a dependable company, always offering the highest standard in skydiving adventures. At Skydive Newport, our environment endeavors to be safe, stress-free, efficient, friendly, and casual, we are strong believers in the fact that your first (or second, or even third) skydive should be done in a relaxed atmosphere. Whether you are an adrenaline junkie or just want to experience the peaceful feeling of drifting calmly below a parachute, we guarantee that your experience will be unforgettable and completely indescribable. We truly believe that Skydive Newport is the best choice for tandem skydiving New England and we hope to see you at our dropzone very soon!
I decided to skydive with Skydive Newport, and it was one of the best decisions I have ever made. This was my first time and it was the best experience one could ask for. From the moment I walked in, I was greeted very kindly and their process and explanations are superb. While waiting to go up, I was talking with the instructor Eric and owner Marc and others and it was such a fun cool vibe. They really made me feel comfortable all around and that really helped me stay calm and fully be in the moment to enjoy my skydive itself.
Harshil Patel
Whether it's your first or fourth time, Skydive Newport was the best experience I've ever had! You are in excellent hands with this crew and the view above Newport is stunning. I've done jumps at three other locations around the world and this was seriously the nicest facility and the content from the photo/video package was the BEST!
Jessered Morgan
Best experience ever! I highly recommend you skydive at least once in your life. For me this was my 2nd time 25 years apart. Skydive Newport is owned by the same family from 25 yr ago and they are still involved. They truly make the experience 5 star. If you're on the fence, Just do it!
Jeff LaVoie
Me and a friend made a jump at Skydive Newport and had the most amazing time. From the reservation process to the pristine facilities and incredible views this was the best. From previous jumping elsewhere this place exceeded my expectations by far. Chris and Eric were the best. The whole organization was top notch. Thanks again to the team at skydive Newport.
Bill McCarthy
The instructors Chris and Eric were amazing. It was an unbelievable experience, they made you feel cool and calm all the way up and down. I would do it again today if I could. This is such a safe, friendly and awesome company. Would definitely recommend to friends, family and anyone out there!! I cannot wait to come back again next year.
Santiango Sardon
Meet The Owners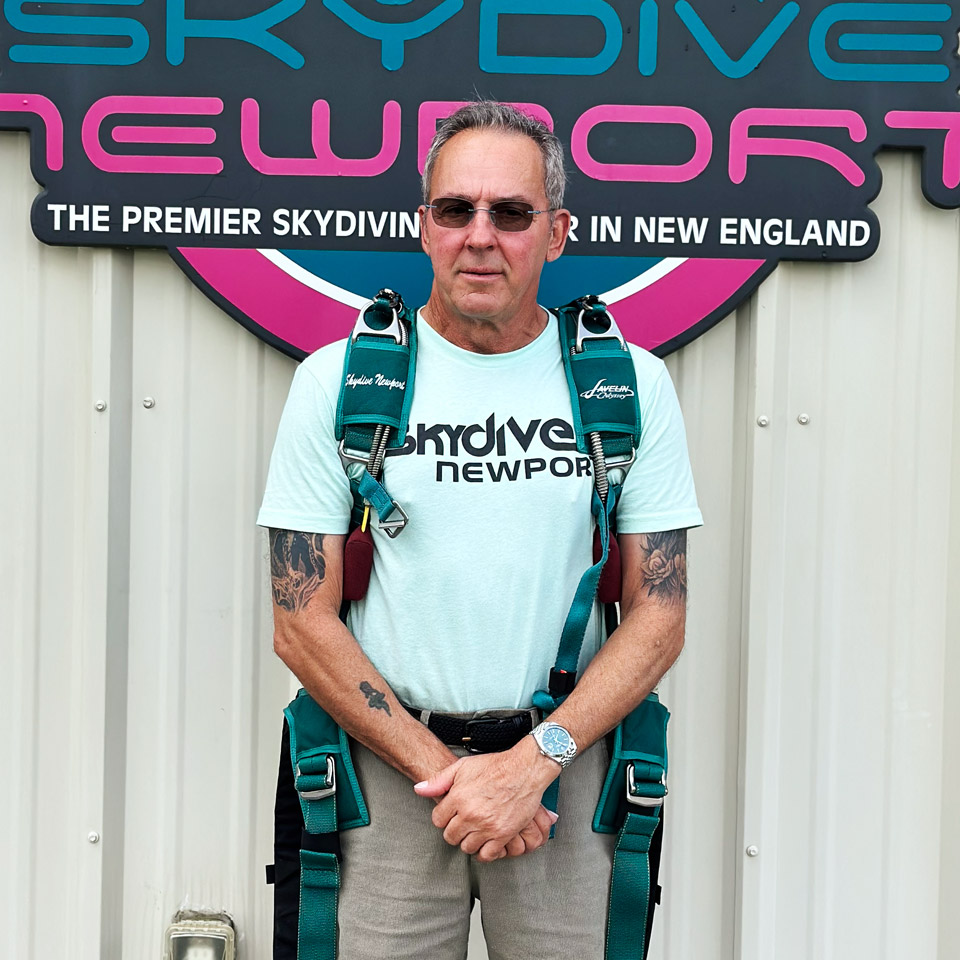 Marc Tripari 
Marc Tripari has 37+ years of skydiving experience and is a USPA rated tandem instructor and examiner. He holds a USPA Tandem and Accelerated Freefall Rating (AFF) and is an experienced private pilot with over 10,000 logged jumps and more than 5,000 tandem jumps. He is also a USPA Safety and Training Advisor, Instructor Examiner, and a professional skydiving exhibition rating holder.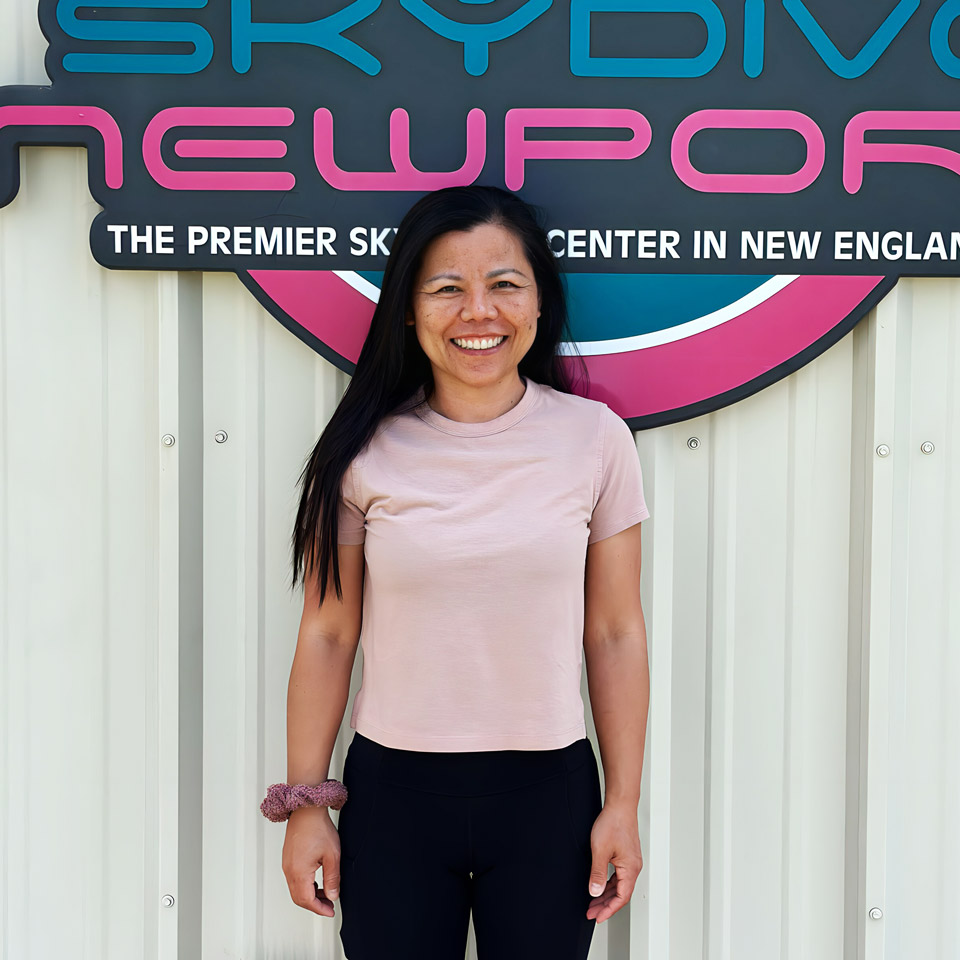 Cherri Tripari
Cherri Tripari works in our customer relations department; she provides outstanding customer service and is one of the friendliest people in the business.Cherri also holds a FAA Parachute Rigger Certificate.